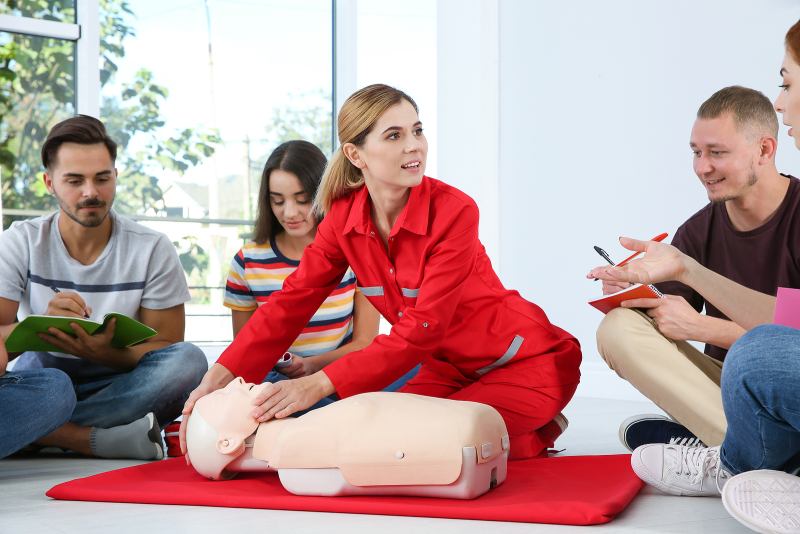 Tips for Teaching CPR Effectively
Tips for Teaching CPR Effectively
Are you passionate about sharing your knowledge of lifesaving procedures? Whether you are a seasoned instructor or a beginner, ensuring your CPR classes are effective every time you step into a classroom is essential. Quick CPR has a team of experienced healthcare professionals ready to help those seeking a refresher on CPR certification training or beginners in lifesaving procedures. Leverage our extensive industry experience and knowledge to ensure your audience gets the most out of your program. Here are five tips to help improve your teaching and make it more effective.
Plan
Teaching others lifesaving procedures is difficult, and instructors are required to plan before CPR classes. This gives you time to engage with students and ensure they learn the skills needed to respond to emergencies. There are many ways instructors can plan, such as reviewing the course roster, making a list of equipment, and personalizing the program to meet their specific needs. While different audiences have varying reasons for enrolling in a CPR certification program, planning helps you address the specific needs in every session.
Rely on the CPR Curriculum
CPR is a vital lifesaving procedure, and instructors should ensure they adhere to a national training organization's recommended curriculum and instructional resources. Ensure your materials meet recognized organizations' most recent consensus on science and treatment. We strictly follow the latest guidelines in Emergency Cardiac Care (ECC) and Cardiopulmonary Resuscitation (CPR). This is critical if you intend your CPR classes to be effective and teach your learners the up-dated scientific methods to save a life. Review the material offered by the training organizations so that you can respond to learners' inquiries.
Practice
Standing in front of the CPR certification class can be daunting, and your lessons can become ineffective without sufficient preparation. After reviewing the material, consider teaching CPR to friends and family before going to a classroom. This will help you determine the better option for you and what needs more work before the lesson. Suppose you are nervous before or during CPR classes. Be candid with your learners as you are still honing your skills.
Make CPR Training Relevant
Visual learning is essential in emergency care training, and learners respond better when they experience a life being saved. If this is impossible, you can organize real-life examples so your learners can practice what they learn. Whether it's a camper performing CPR on an injured camper or an invited counselor speaking about emergency care, students can see the relevance of emergency care. These actions go a long way in ensuring they respond effectively during an emergency.
Stay Organized
After a CPR class, find time to prepare for the next lesson. Keep your materials organized, clean and sanitize equipment, and explain how the course went. You can write your thoughts for the lesson on a piece of paper as a reminder of what needs improvement in the next lesson. If you are ready to teach emergency care, these tips will help you affect your learners' lives.
Contact us at Quick CPR and schedule a consultation with our team of experts to enjoy top-notch services at competitive rates. We guarantee exceptional CPR certification training at competitive market rates.